Six negative effects of hyper-parenting
The Jakarta Post,
September 23, 2018
Click here
The Science Of The Common Core: Experts Weigh In On Its Developmental Appropriateness

October 23, 2014
Doctors need delicate touch when children are over-scheduled
American Medical News,
September 2, 2013
Click here
When your toddler reaches a milestone,
don't overdo it
ParentsCanada,
June 17, 2013
Click here
"Planning Your Child's Schedule"
Parent Circle Magazine, Indian Edition
Click here
"Kids have summertime boredom...already? Help them beat it"
Today Parents Article
Click here
"Is Your Child
Too Busy?"
Kiddos Magazine
Click here
Overscheduled Children:
How Big a Problem?

October 11, 2013
Click here
Invited Address
Grand Rounds, Columbia University, November 2, 2007
Click here

~ Photos by Alvin Rosenfeld, MD ~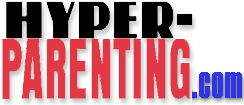 ---

Our paperback, "The Over-Scheduled Child: Avoiding the Hyper-Parenting Trap" (formerly titled "Hyper-Parenting") explains why it is better -- in the short and long run -- for parents and kids alike to slow down, do less, and generally turn the volume down on family life. This book will make you feel happier about yourself as a parent, and calmer about your child as a person. Best of all? This is how to raise children who will succeed in life!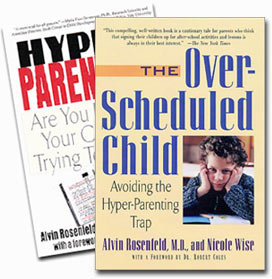 Lists and schedules, meetings and appointments, that need to be the best no matter what - doesnít it sound like your life? If itís not - itís your childís. Parenting today has come to resemble a relentless To-Do list. Even parents with the best intentions strive to micromanage every detail of their kidís lives and live in constant fear that their child will underperform in any area - academic, social, athletic. The fact is, parenting should not consume every last bit of our time, money and energy. Itís not good for us as parents, and itís potentially dangerous for our children and their healthy development.
Luckily, there is a cure for hyper-parenting. In their groundbreaking book, renowned child psychiatrist Alvin Rosenfeld, M.D., and longtime family-issues journalist Nicole Wise identify and attack this rampant phenomenon. With the strength of their combined professional and personal experience, Rosenfeld and Wise tell you how to identify the hyper-parent in yourself and prescribe clear, comforting steps to make parenting a happier and healthier experience for you and your child. READ MORE...
CLICK HERE TO READ THESE ARTICLES ON "HYPER-PARENTING"
AND "THE OVER-SCHEDULED CHILD"

Book available from


Website by
JonasWeb Web Site Design, New York City

This site and all its contents are protected by copyright laws, © Alvin Rosenfeld and Nicole Wise.
All rights reserved. No unauthorized reproduction is permitted without consent.